The wonderful, prolific and very popular Maps Mania blog  featured the Wikimaps Warper a few times recently, do check them out!
The first interactive map: The Vintage Maps of Berlin uses the Wikimaps Warper.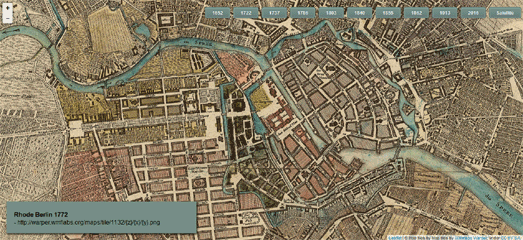 Keir writes:
This collection of old historical maps of Berlin centers around what is now Museum Island in Berlin.

In the oldest maps you can clearly see the two towns of Cölln and Altberlin, on opposite banks of the River Spree. As you progress through the maps you can see how this area of Berlin's has changed and developed over the centuries.
Do check out the 11 maps of Berlin from 1652 to today  here: http://homepage.ntlworld.com/keir.clarke/leaflet/berlin.htm
The second post, and interactive map entitled Maps in the Age of Cholera based on an epidemiological map of Leeds (co-incidentally my home).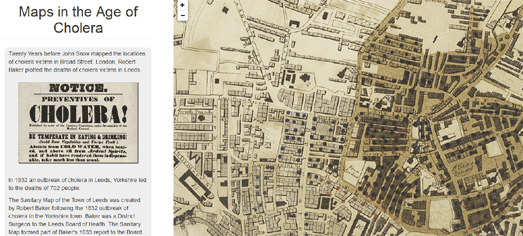 This was also created by Keir and he writes:
Twenty Years before John Snow famously mapped the locations of cholera victims in Broad Street, London, Robert Baker plotted the deaths of cholera victims in Leeds. Maps in the Age of Cholera is a story map based around Robert Baker's 'Sanitary Map of the Town of Leeds' exploring the 1832 cholera epidemic in the Yorkshire town. Baker never made the link between cholera and contaminated water. However, in his map and in the accompanying report to the Leeds Board of Health, Baker noted that "the disease was worst in those parts of the town where there is often an entire want of sewage, drainage and paving".

The map itself uses this Leaflet Story Map plug-in. The Leaflet Story Map library uses jQuery to create a scroll driven story map. The map tiles scheme for Robert Baker's 1832 'Sanitary Map of the Town of Leeds' comes from Wikimaps Warper.
do go check out the interactive story map here http://homepage.ntlworld.com/keir.clarke/leaflet/cholera.htm